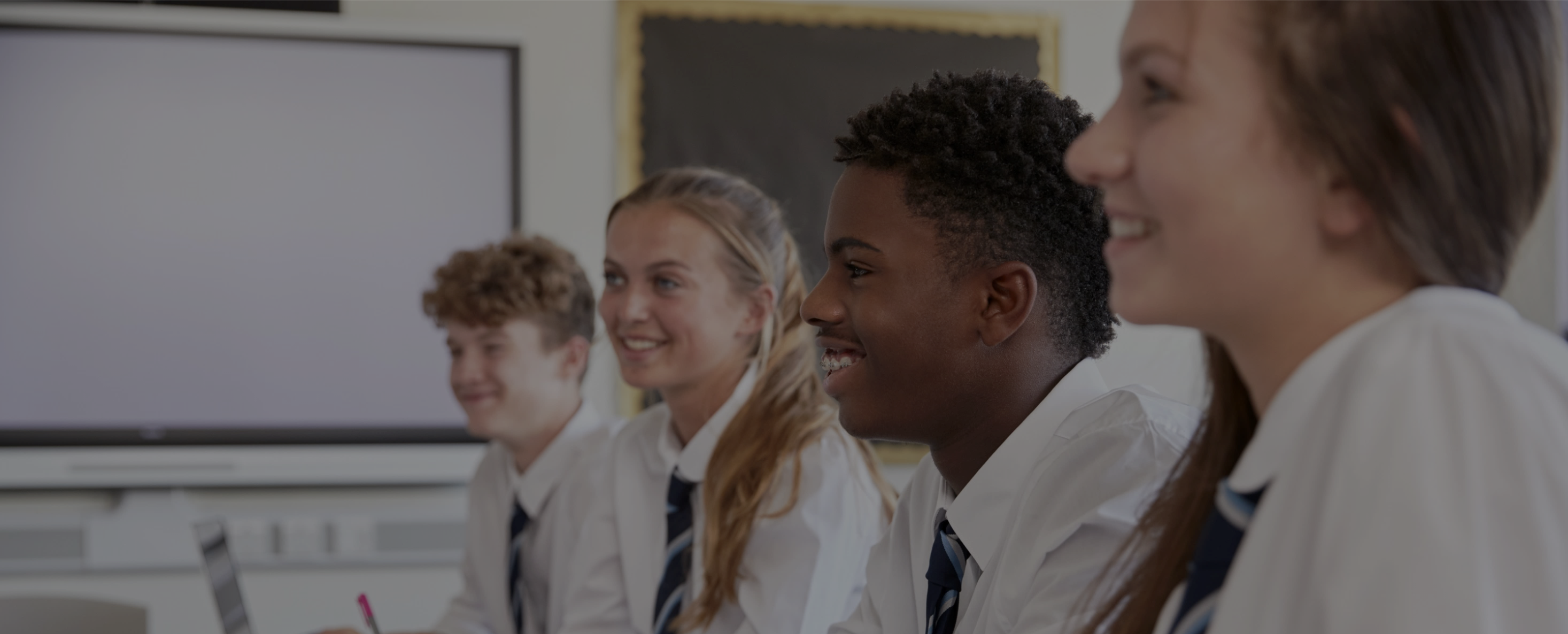 Lead your school to better performance
Get MYA software solutions and unleash your potential
Saves time & money
Fantastic engagement
Delivers results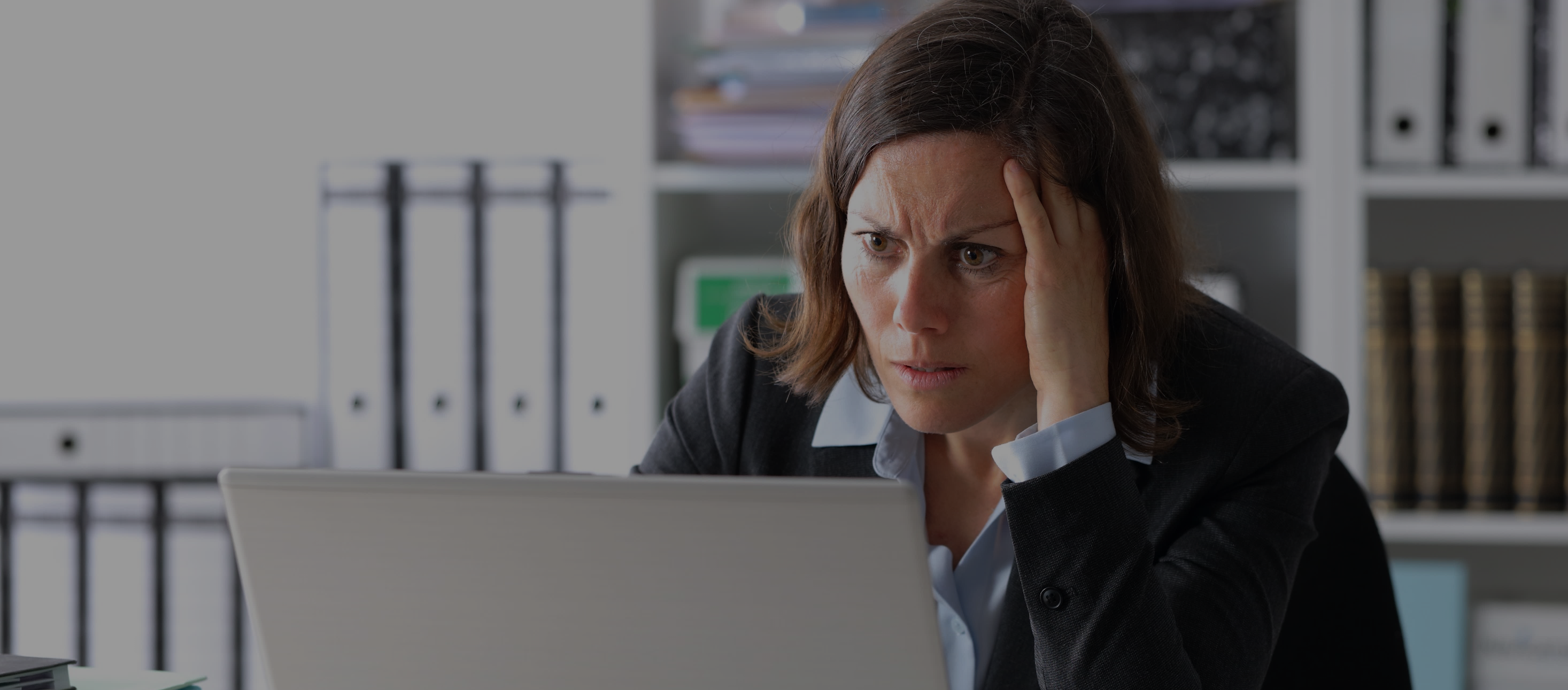 Could you make better decisions with better information?
Is the data you have difficult to visualise?
How could you improve with insight across the whole school?
Do you need time back for your students?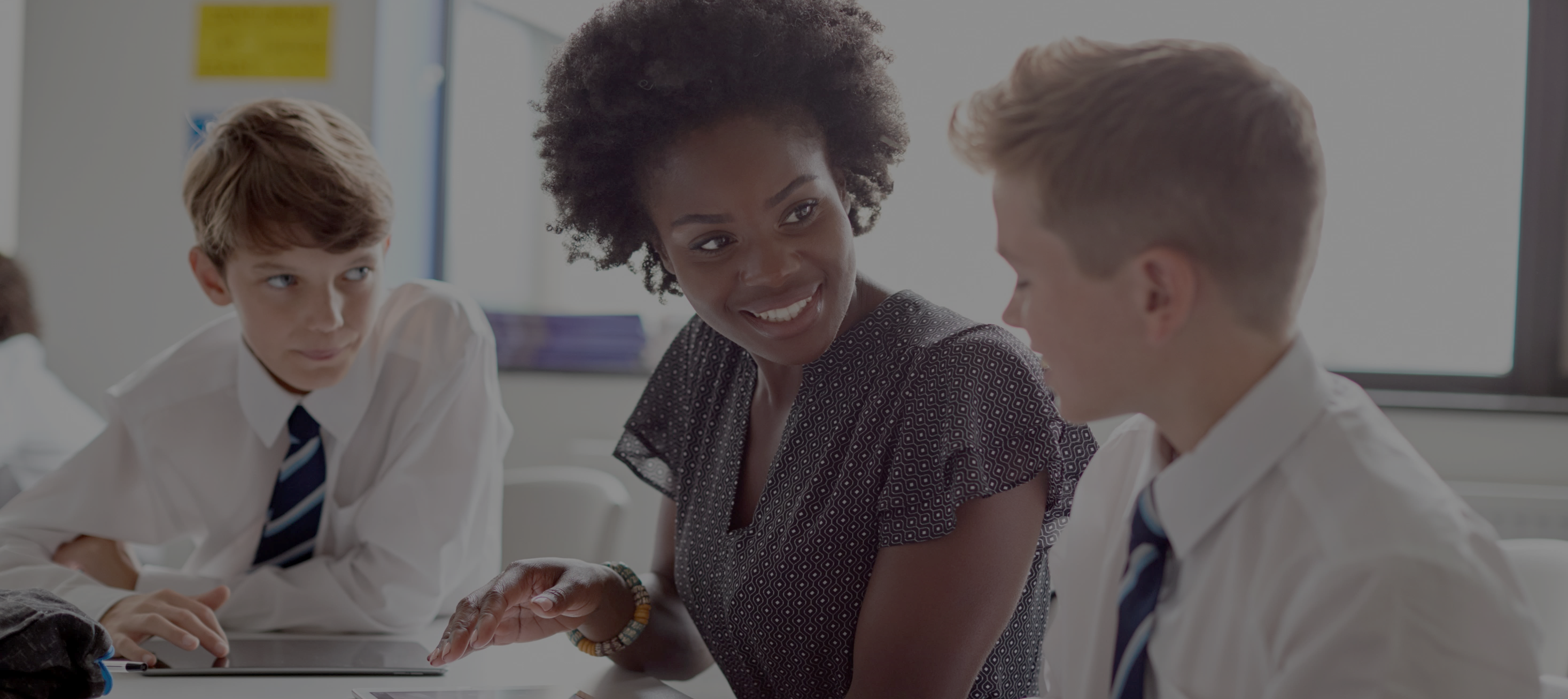 We don't just care about software.
We care about you.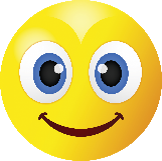 1000's Happy Students, Parents and Staff.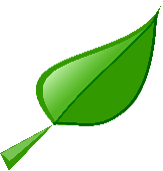 Efficient Communications and Saving Resources.

Improving School Performance Every Day.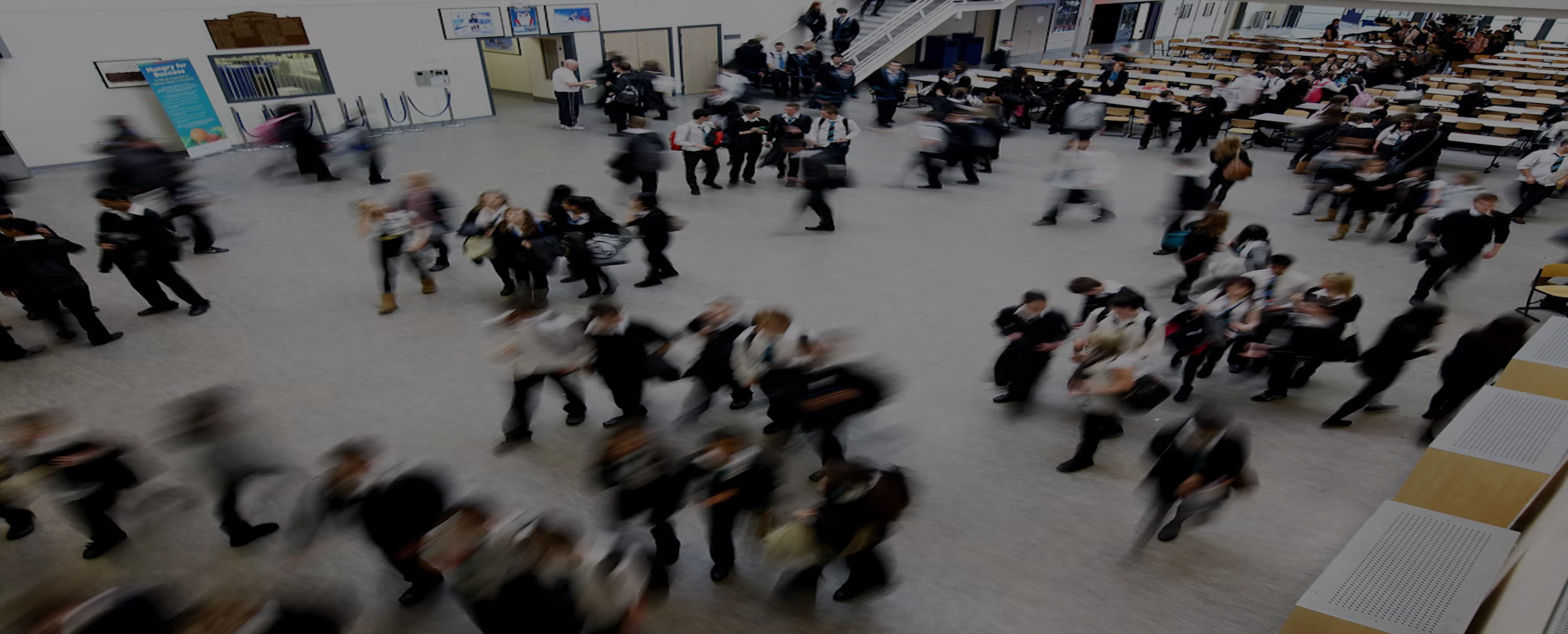 Choose from these simple MYA options ...
MYA Cloud Platform
Announcements
Consent
Analytics
SIMS Integration
MYA Core +
Behaviour
Bookings
Tutor Reports
Mentoring
Email Communications
MYA Premium +
Safeguarding
Ofsted Insights
Compliance
Parent Portal
Student Portal
SMS Messaging
Standalone or
Add to any package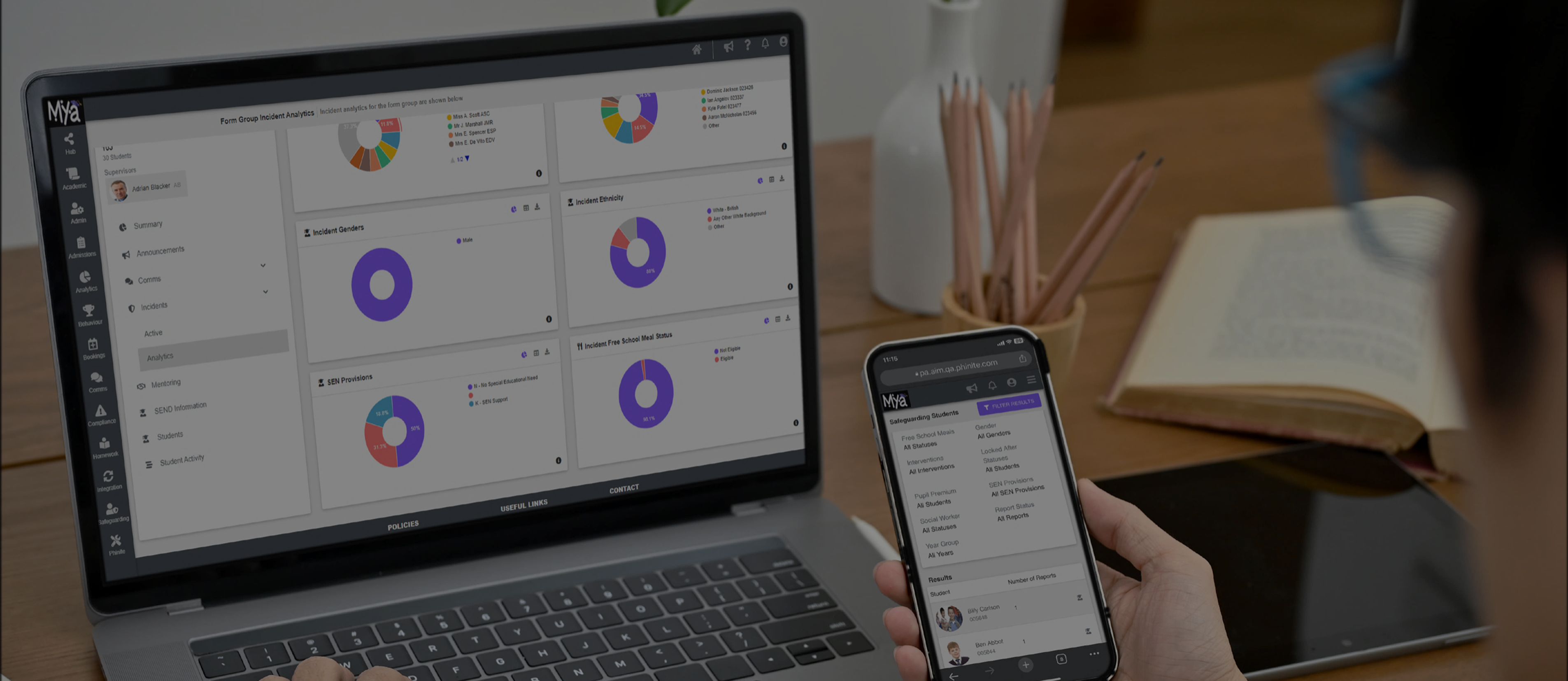 How It Works ...
1.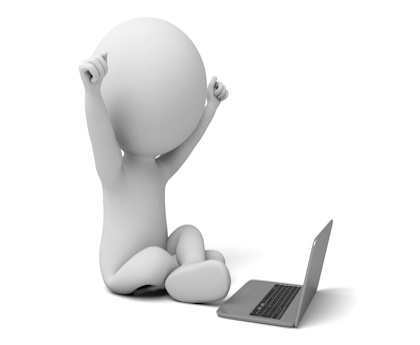 Register For Your Demo
2.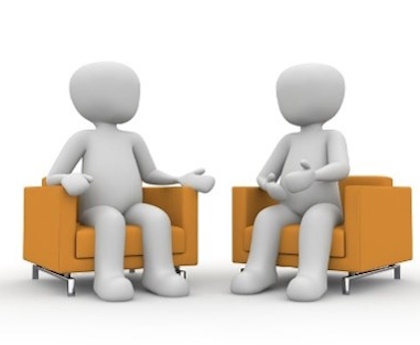 Tell us what you need
3.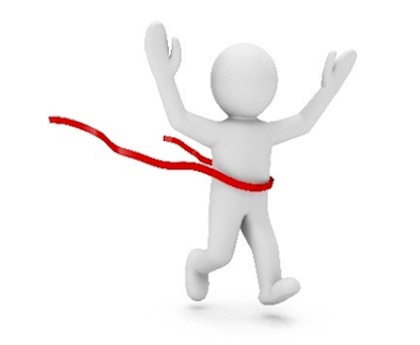 We will guide you to the finish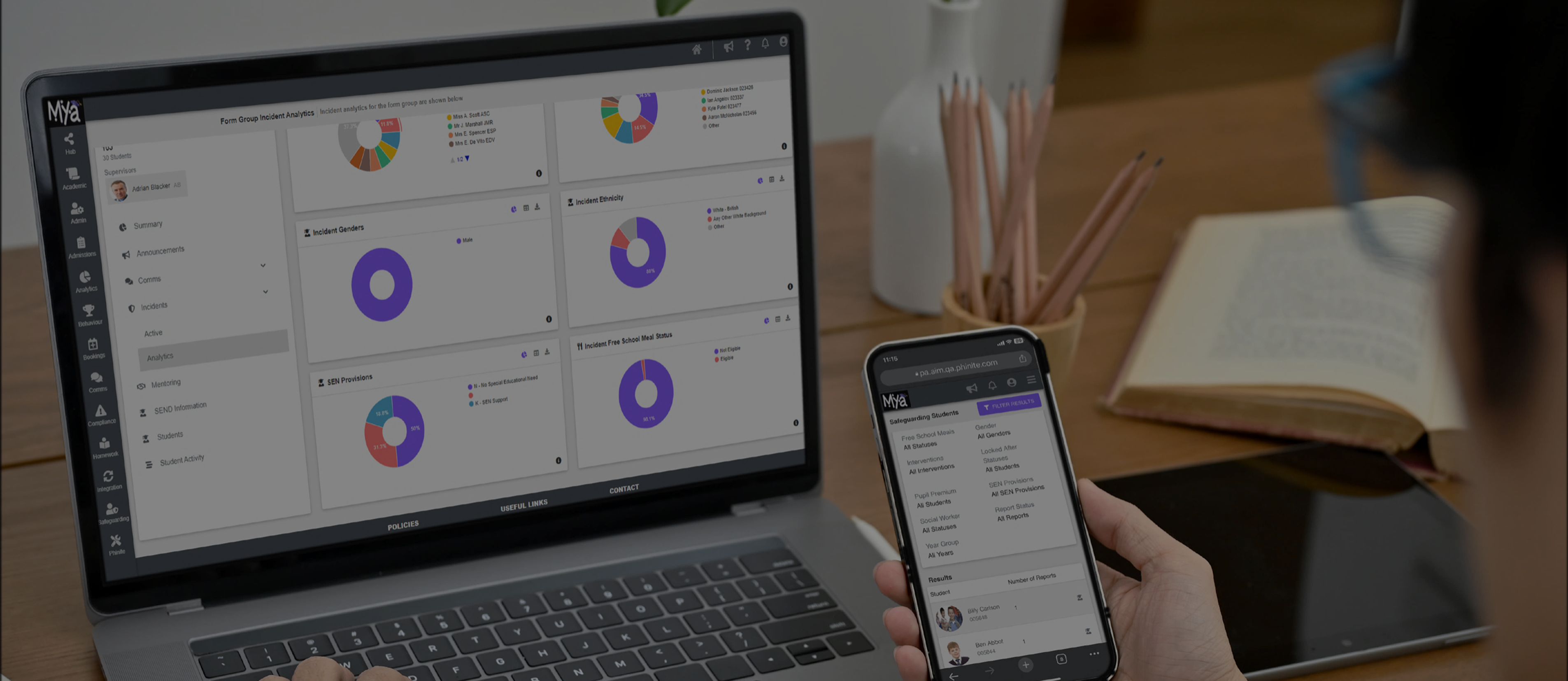 MYA
Ofsted Dashboard
Insights that target better outcomes for your school.
Confidentially record issues to ensure transparency and deliver action.
MYA
Safeguarding
MYA
Behaviour
Capture incidents, reward performance, take action and spot trends.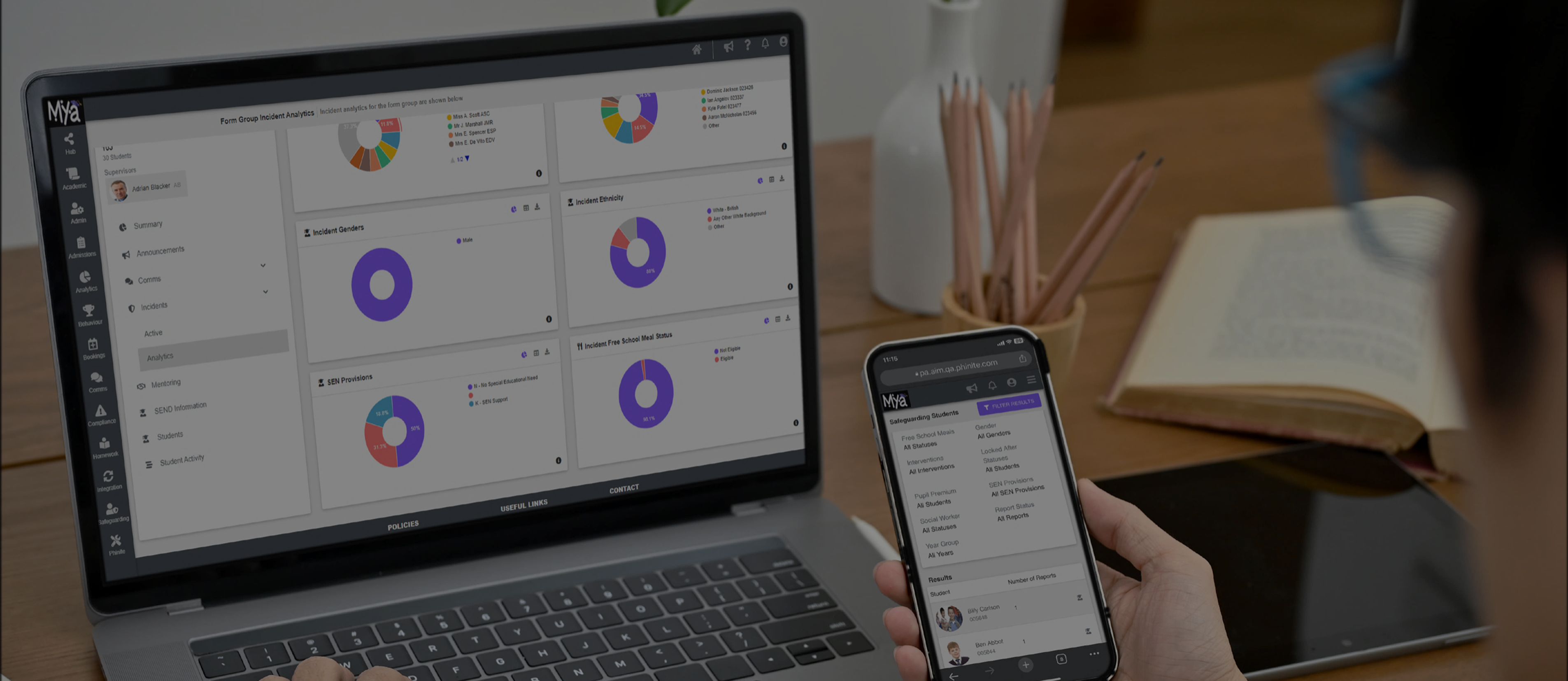 MYA
Admissions
On-line applications, engage students.
Model class and subject mixes to maximise intake and staff.
Email, SMS and notifications, are at the heart of improving school performance.
MYA
Communicator
MYA
Consent
Automates the consent process.
NO MORE NOTES LOST ON THE WAY HOME!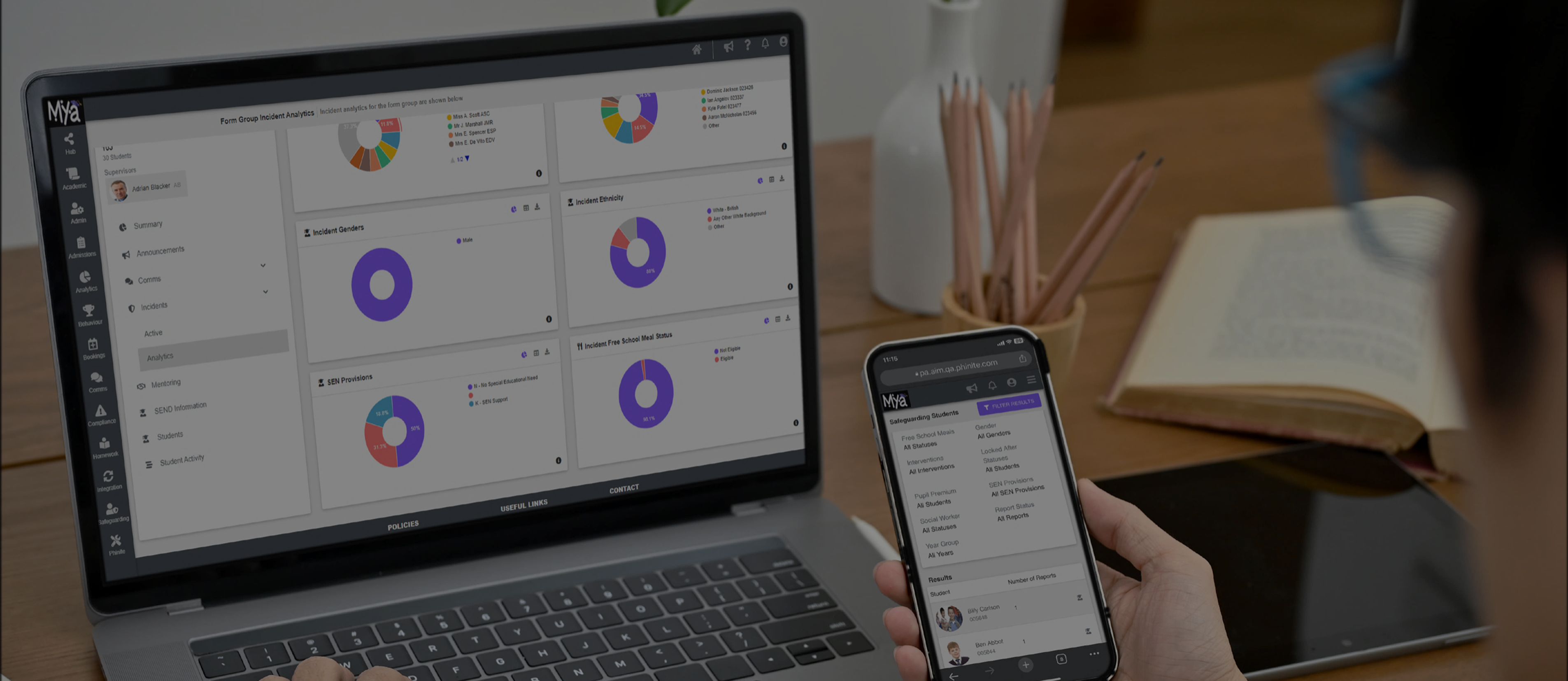 MYA
Bookings
School wide resource bookings that keep everyone in the picture.
Set and track homework tasks and due dates.
Informing students and parents too.
MYA
Homework
MYA Parent
Portal
Parental access to key information.
No better way to maximise engagement.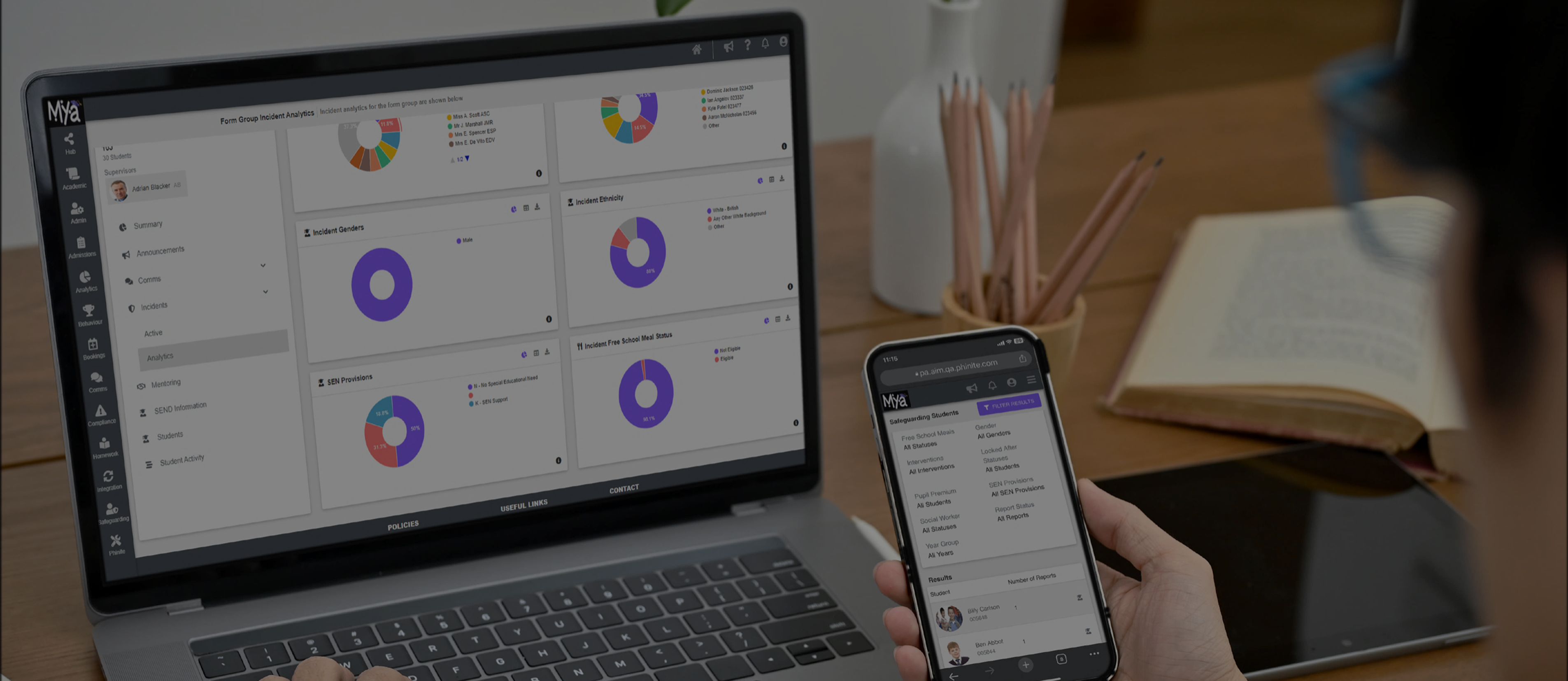 MYA Tutor
Reports
Produce and manage the reports process in less time and recources.
Automatic collection of data from MIS to extend the life of existing investments.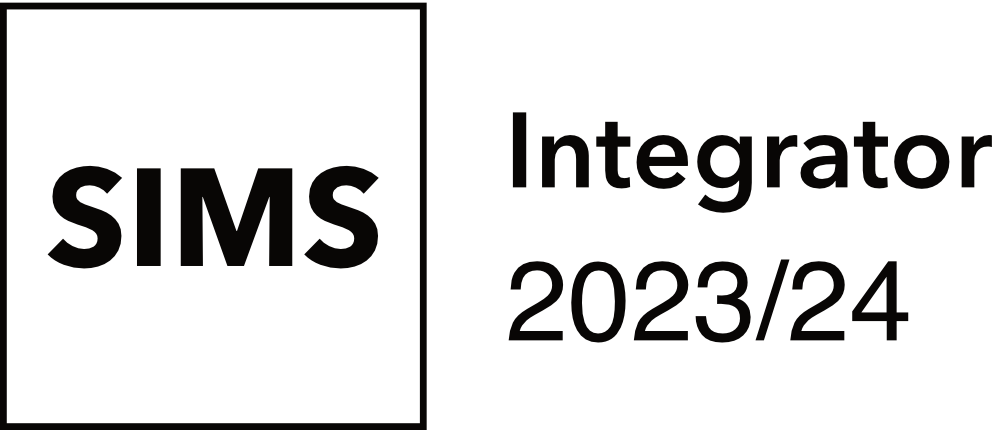 MYA MIS
Integration
MYA
Compliance
Record and manage potential breaches ensuring compliance.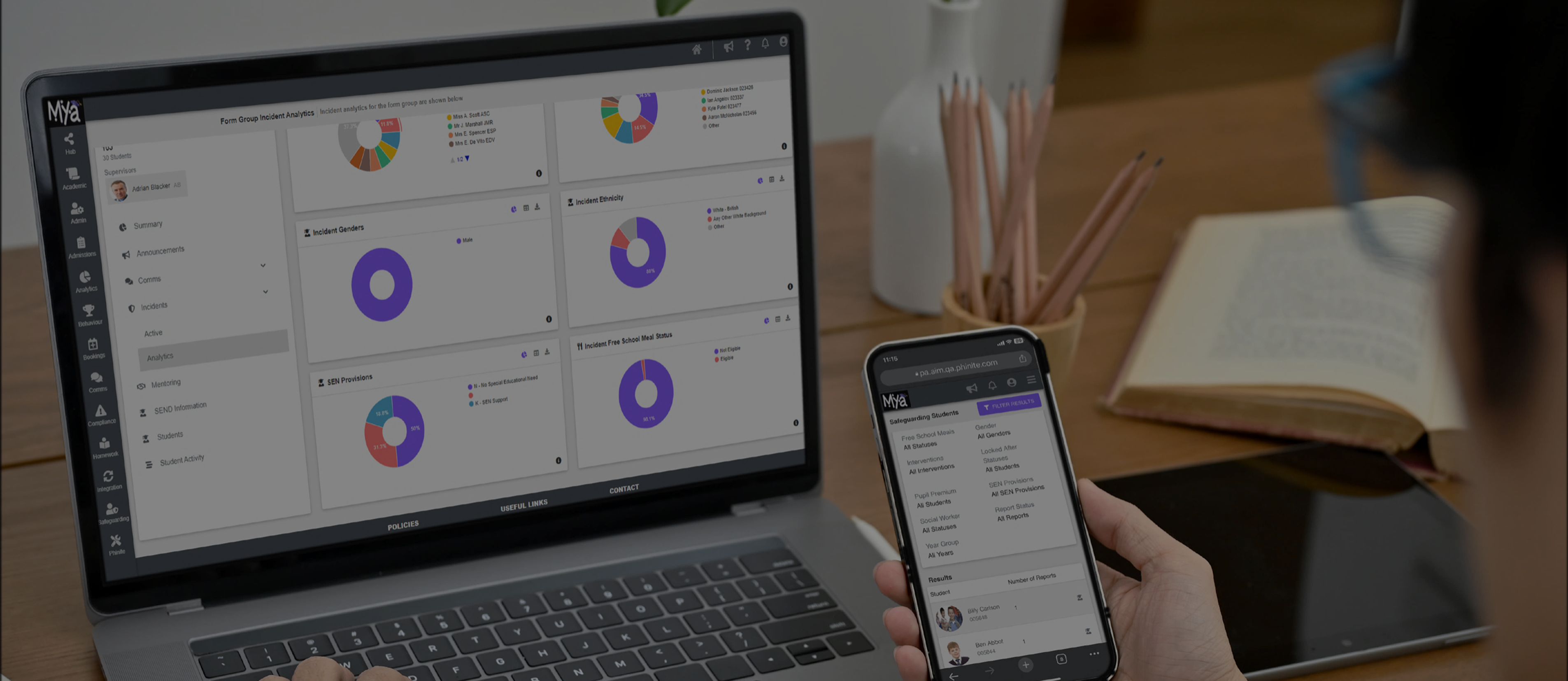 MYA
Mentoring
Drive individual aspiration and well-being through regular contact.
Delivering effective communications through SMS.
Track delivery and read receipt.
MYA SMS
Messaging
MYA Email
Messaging
Make contact with the groups you need to maximise engagement.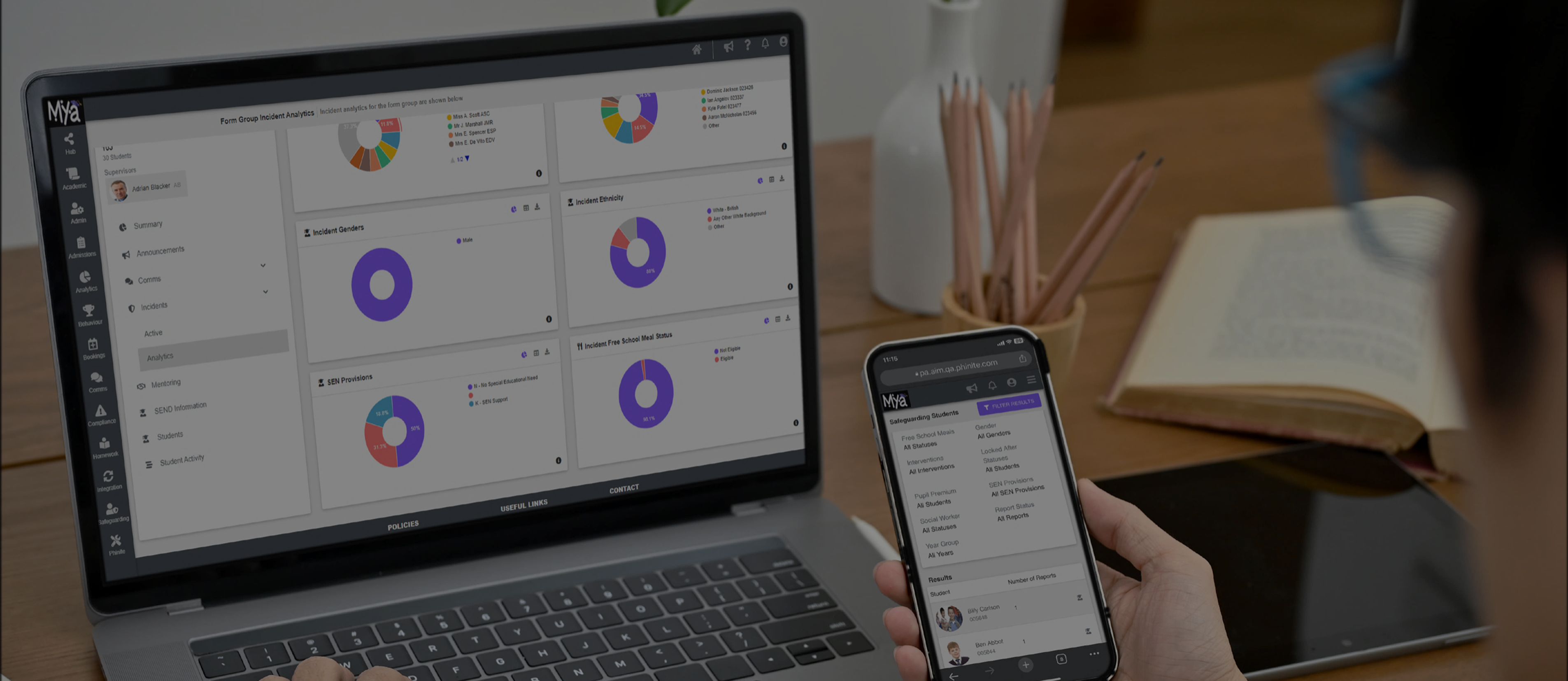 About Us ...
MYA is a cloud hosted solution that will make a real difference to your school.

MYA engages staff, students and parents easing the progress towards better outcomes for your students.

Simple solutions, effective information, better communications, independently or alongside your existing MIS. Always better.

Listening to requests from teachers and school leaders, MYA provides what you need, saving time and money, removing frustrations and allowing you and your school to deliver more.

MYA can help you too. Register with us to find out how.